My first Christmas as a married women is over. Wasn't that an adventure...
I got a digital camera from my hubby, so now i'm going mad with pictures. Good thing is I can add more pics to this blog.
Here is a pic for ya of the inlaws/brother in law and I about to dig in...
How about these goodies...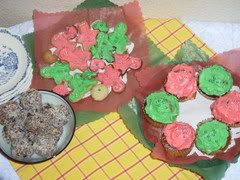 I hope you all had a lovely Christmas.